IOL technology allows our surgeons to implant an artificial lens (IOL) to replace the natural lens of the eye that has been damaged by cloudy cataracts or presbyopia. Originally, all IOLs were monofocal meaning that they corrected vision at one distance only. Now, advancements in technology have produced multifocal IOLs which can provide patient's with both distance and near vision without glasses. Multifocal IOLs such as TECNIS® and ReSTOR® preserve distance vision and can correct presbyopia so cataract surgery patients — and patients seeking treatment for presbyopia alone — can enjoy clear sight without relying on glasses.
There are many types of IOLs available and our surgeons will help you decide which is best for your specific visual needs.
Symfony® Multifocal Lens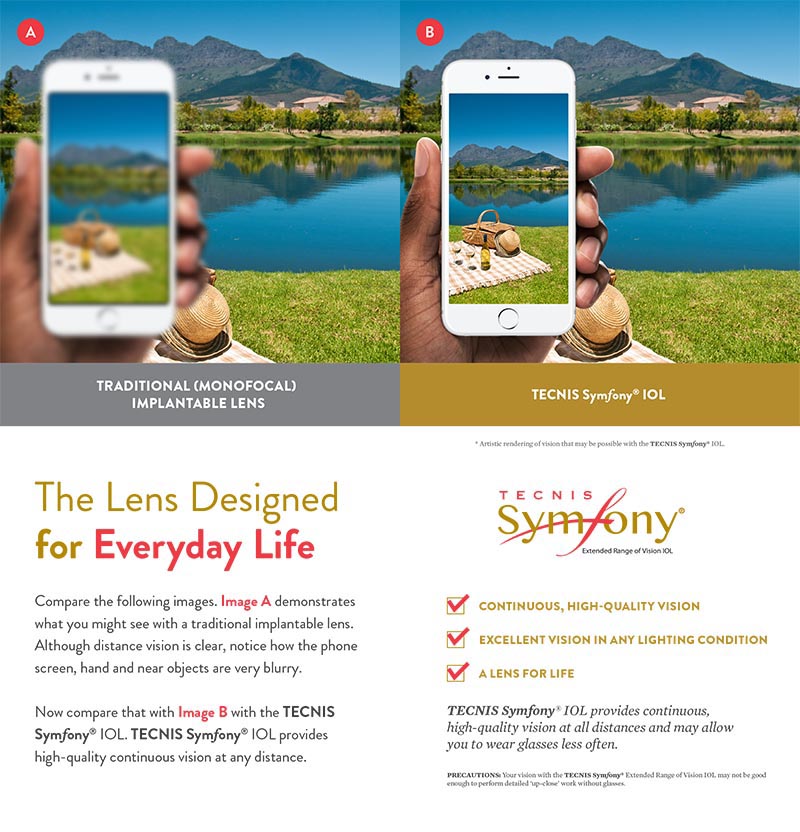 Click here for additional information on Symfony® Lens
TECNIS® Multifocal Lens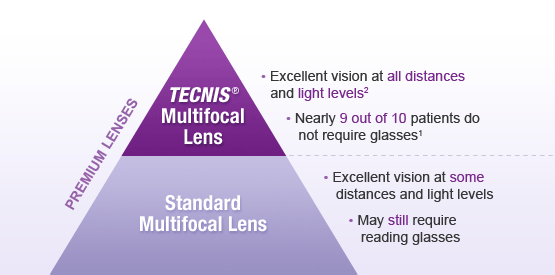 Designed to give patients back their youthful vision, the TECNIS® Multifocal Lens provides patients with high-quality vision at any distance, and in any light condition—even in low light.
Superior Results
The advanced TECNIS® Multifocal is an implantable lens that restores vision after cataract surgery and corrects presbyopia (the need for reading glasses). It delivers results superior to those of a standard multifocal lens and offers an excellent chance to become spectacle independent.
TECNIS Multifocal Lens
Learn more about how the TECNIS® Multifocal IOL can provide you with a full range of vision.
ReSTOR® Lens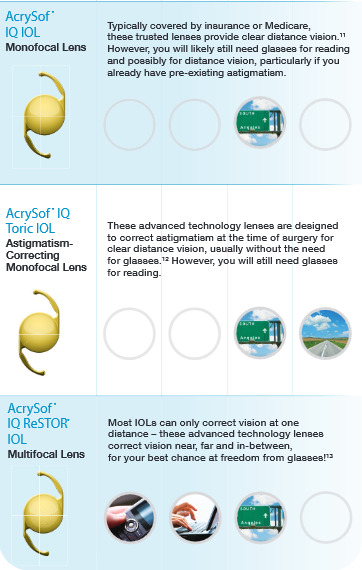 Using apodization, diffraction and refraction technologies, the ReSTOR® lens improves upon ordinary replacement lenses (IOLs) by providing comprehensive focusing capabilities so patients can see clearly in a range of lighting conditions and at all distances — at noon or midnight, nearby or far away, and many distances in between. Up to 80% of patients who use the ReSTOR® lens don't need to rely on glasses or contact lenses after surgery.
If you have been diagnosed as having cataracts and are experiencing one or more of the following vision problems, you may be a candidate for the ReSTOR® multifocal IOL:
Difficulty reading
Difficulty seeing close objects
Difficulty driving, especially at night
Frequent changes in glasses prescription
Need for bifocals
Click here for additional information on ReSTOR® Lens